Product Description
Conduit Snakes Cable Handling Equipment
Fiberglass Snake Rod, Cobra Conduit Rod , Electric Cable Rodder, there are different sizes and colours per your demands, with diameter 4.5~16mm.
Accessories such as:
1.Galvanzied steel frame, smooth, long service life;
2.Rubber wheel, durable, long life, easy to move;
3.Copper head, made of all-copper;
4.Fiberglass rods, with meter mark that inform how long it used in the cable pipe.
Package of Fiberglass Duct Rodder:carton, pallet, wooden box and customized
Delivery time: 7~20days after deposit.
Please confirm the following information in your inquiry:
1. The diameter of the duct rodder.
2. The length of the duct rodder
3. The qty of the duct rodder
4. The color you like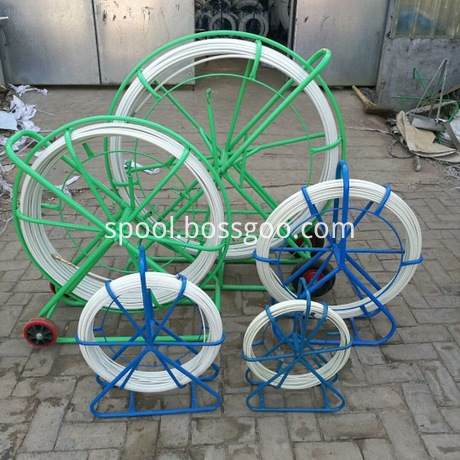 To support the Transmission work, ONEREEL has Tubular Gin Pole, Come Along Clamp , Wire Rope Pulley Block, Nylon Sheave Hoisting Tackle, Cable Mesh Sock Grip, Line Stringing Swivel- all are OEM and professionally produced per ISO 9001:2008, which are being sold to over more than 50 countries in the world. Some items like Emergency Restoration Tower And Crossing Structure, we can customized, and the Safety Tools And Accessories, are not demanded the MOQ. You can freely help you out either Tech issue or Products requirements. Pls approach us. Thanks.
ONEREEL is specialized in the design and manufacture Wire Spools, Plastic Spools, Steel Cable Spools, Steel Bobbin, Warp Knitting Beam, Empty spools, Fiberglass Rodder,Fiberglass Duct Rodder,Fiberglass Conduit Rodder,Duct Push Rod,Fiberglass Duct Rod,Conduit Rod in the industry since 1991. All of our customer spool and wire carrier are engineered and manufactured in our 120,000 square foot state-of-the-art manufacturing plant located in Ningbo, Zhejiang.