Product Description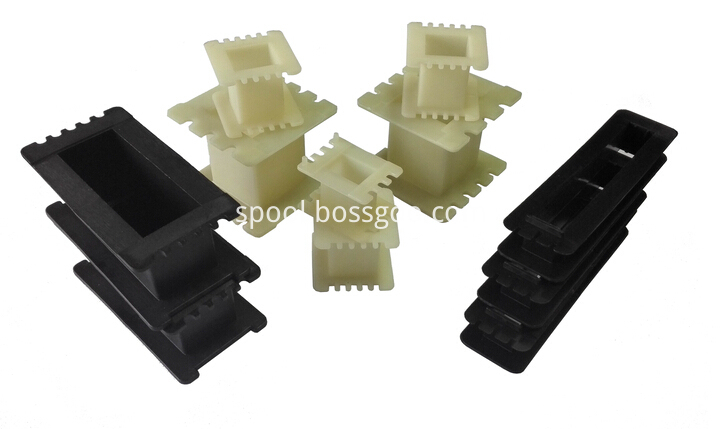 Transformer Bobbin
ONEREEL are engaged in manufacturing and supplying a wide range of transformer bobbins which is highly used for effectual functioning.
Our bobbins are manufactured using quality material such as nylon, polycarbonate and ld. These are used as suitable storage for wires in the shape of coil. Further,
these are widely applicable in electronic industry and are offered as per the desired requirements and specifications of our clients.
EI-114*52transformer bobbin;
Material: NY66;
horizontal;
different sizes can be designed;
OEM available;
Design service offered;
Passed ISO9001 certificate;
Durable in use, favorable price;
Quick details;
Various kinds of bobbins range between: EP series; RM series; ET series; EC series; UF series; PQ series; EE series; UU series; EI series and so on;
Bobbin material: PBT; PET; PA66; ABS; and so on;
Bobbin shape; vertical and horizontal;
Different sizes can be designed to meet your requirements.
Have nearly 20 years' in producing all kinds of bobbins and transformer bobbins;
Have several experience engineers engaged in designing all kinds of products;
Our products have passed ISO9001 quality certificate;
Best services we will always provide you;
ONEREEL is specialized in the design and manufacture Wire Spools, Plastic Spools, Steel Cable Spools, Warp Knitting Beam, Cable Spools, Steel Wire Reel, Stainless Steel Spool, Corrugated Wire Spool, Collapsible Cable Reel, Aluminum Spool, Punching Wire Spool, Skeleton Cable Reel, Pulley Block, Hose Reel, Nylon Spool, Yarn Bobbin, Transformer Bobbin in the industry since 1991. All of our customer spool and wire carrier are engineered and manufactured in our 120,000 square foot state-of-the-art manufacturing plant located in Ningbo, Zhejiang.