Product Description


High Pressure Spring Loaded Hose Reel
Professional grade heavy duty steel construction. Durable proprietary powder coat fish. CNC robotically spun and ribbed discs with rolled edges provide strength, safety, and durability.

Sturdy single pedestal reel with space saving design facilitates workplace organization.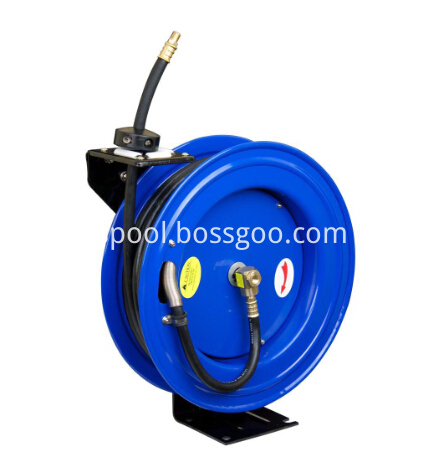 Features:
Mount your retractable hose reel and set the ratchet system for the perfect hose length. Easily activate the spring-loaded release to effortlessly roll up your retractable hose. A 50 ft., 3/8 in. diameter hose is included.

Holds up to 50 ft. of hose

Includes 250 PSI 50 ft. x 3/8 in. rubber air hose

Spring powered auto rewind

Four direction non-snag rollers reduce hose wear

Machined brass fittings

Mounts to floor, wall or ceiling

MaterialSteel w/rubber hose
Specification
| | |
| --- | --- |
| Application | Air & Water |
| Capacity | 50 ft. |
| Material | Steel w/rubber hose |
| Maximum pressure (PSI) | 250 PSI |
| Air inlet size | 1/4 in. NPT(F) |
| Hose Length | 50 ft. |
| Hose size (in.) | 3/8 in. |
| Product Height | 6 in. |
| Product Length | 13-1/4 in. |
| Product Weight | 32.56 lbs. |
| Product Width | 5-3/4 in. |
| Shipping Weight | 38.34 lb. |
| Accessories Included | 250 PSI 50 ft. x 3/8 in. rubber air hose |



Possible Fields Of Application:

Air/Water Service
Pneumatic Tools
Washdown
Lubrication
Chemeical Fluid Transfer
General Industrial
Manufacturing Plants and Facilities
Maintenance, Repair and Operations
Automotive & Fleet Service Centers
Compact two reel assembly for dual hose applications, each reel operates indenpendently. Guide arm adjusts to wall, floor & overhead positions.

Best quality Air/Water Hose Reels, China Air/Water Hose Reel, low price Hose Reel, Air/Water Hose Reel, Hose Reel, Economic Air/Water Steel Hose Reel, Steel Hose Reel.


ONEREEL is specialized in the design and manufacture Wire Spools, Plastic Spools, Steel Cable Spools, Warp Knitting Beam, Cable Spools, Steel Wire Reel, Stainless Steel Spool, Corrugated Wire Spool, Collapsible Cable Reel, Aluminum Spool, Punching Wire Spool, Skeleton Cable Reel, Pulley Block, Hose Reel, Nylon Spool, Yarn Bobbin in the industry since 1991. All of our customer spool and wire carrier are engineered and manufactured in our 120,000 square foot state-of-the-art manufacturing plant located in Ningbo, Zhejiang.


To support the Transmission work, ONEREEL has series of Air/Water Hose Reels, Automical Air Hose Reel, Retractable Air Hose Reel, High Quality Steel Hose Reel, High Pressure Spring Loaded Hose Reel, Economical Hose Reel- all are OEM and professionally produced per ISO 9001:2008, which are being sold to over more than 50 countries in the world. Some items like Emergency Restoration Tower And Crossing Structure, we can customized, and the Safety Tools And Accessories, are not demanded the MOQ. You can freely help you out either Tech issue or Products requirements. Pls approach us. Thanks.