Product Description
Plastic Spools for Roving Frame and Twisters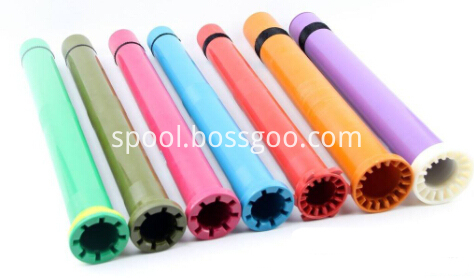 ONEREEL is having more than 35 years of experience in the manufacture of Spools for spinning machines and are the pioneers in manufacturing textile machinery spares.
ONEREEL offers a wide range of Plastic Spools suitable for Ring Spinning, Roving machines (Mechera) and Twisting like Rieter, Toyoda, Marzoli, Zinser, Howa, Lakshmi Rieter , MMC and Chinese frames. These spools are made of very high quality plastic raw materials like Poly Propylene Copolymer, ABS (Acrylonitrile Butadiene Styrene) POM, PA. The Roving spools with high wear resistant poly acetol (Delrin) bushes on top as well as on bottom are also available on selective models. A wide range of Plastic Roving Spools suitable for most of the international machines is available with us.
Characteristics of Spools
Anti-shock, anti-bend, thermostability, up to 20,000 RPM, non-deforming, smooth surface, bright fast colors, suitable for yarn conditioning, optional special inside bushing
See the color shades for plastic roving spools. Kindly send your order with spools specifications, ONEREEL Color code and quantity of roving spools.
ONEREEL is specialized in the design and manufacture Wire Spools, Plastic Spools, Steel Cable Spools, Steel Bobbin, Warp Knitting Beam, Empty spools, Yarn Bobbin,Dyeing Bobbin,Roving Bobbin,Ring Bobbin,Cylindrical Bobbin,Cone Bobbin in the industry since 1991. All of our customer spool and wire carrier are engineered and manufactured in our 120,000 square foot state-of-the-art manufacturing plant located in Ningbo, Zhejiang.